The Old School Hostel and Budget B&B, Trefin, serving St Davids and the Pembrokeshire Coast Path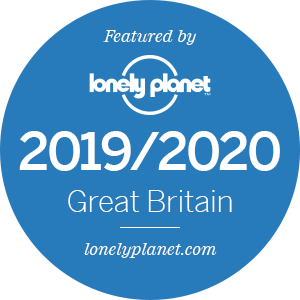 Stop Press!  The Old School Hostel has just been voted a HotelsCombined.com Stellar Stays Winner.  We rank no.4 out of 583 places to stay in Pembrokeshire, Carmarthenshire and Ceredigion.
We've been to a fair few places around the world ourselves and know that one of the major pleasures of travel isn't necessarily the over-hyped famous sights. Coming across somewhere special to stay at the end of the day can be just as memorable or even more so. That special place to stay is what we've endeavoured to create here at The Old School Hostel, in Trefin Pembrokeshire.
Eat in, eat out, the choice is yours
Perhaps the best feature about hostels (apart from the great value for money) is the fact that there's usually a kitchen allowing you to save £££s by not having to eat out every day. At The Old School Hostel we've a nice practical easy to clean stainless steel kitchen and have installed new gas hobs, a microwave and a double oven. There's a large fridge/freezer, toaster and kettles and ample crockery, pots and pans and utensils. Rustle up a quick bowl of pasta or a three course Sunday lunch then dine in style at our unique Mackintosh table.
Charles Rennie Mackintosh
There can't be many places where you get to dine seated on an original Charles Rennie Mackintosh chair. Not unless you're very good friends with a multi millionaire – one went for over £300,000 at auction a while back. But why should the rich have all the fun! There's a host of arty and quirky touches to our place and one of them is that we're the only hostel in the world (probably) featuring chairs (copies alas) designed by the great man himself.
Decisions, Decisions
After supper stroll down to the pub for a drink (it's only 3 minutes walk away) or to the cove by the old water mill to watch the sunset, or just curl up with a good book and a glass of red in our cosy lounge. Over the years we've collected an eclectic library of books and we love to share them with guests. They fill the shelves in the hostel along with a host of games chosen to appeal to kids and grown-ups alike. Alongside the three sofas there's a computer terminal and there's free wi-fi access too.
Quality Family Time
Kids love The Old School Hostel. It's a bright and cheerful place and there's something interesting to discover in every nook and cranny. Whether it's the old typewriter in the lounge that always seems to intrigue youngsters or the toy boxes full of dinosaurs and Playmobil, we try to go the extra mile to keep them happy and amused. And if they're happy we know Mums and Dads are too. We cover the practicalities too and have a high chair and good quality travel cot for the wee ones. Adjoining the hostel is the village hall which the community kindly allow our guests to use when it's not booked for an event. It's a great space for kids and adults and has table tennis too.
YHA Trefin 1968-2006
Originally with just 2 draughty dormitories open to the rafters, outdoor loos and no showers the youth hostel had a major refurbishment in the early nineties when an upstairs floor was added to accommodate 6 new bedrooms. It was a dream come true for us when we came across it on our travels and a few months later found ourselves signing a lease as the new tenants. We had our very own hostel to play with! Still, we did wonder quite what we had taken on when we moved in one dark February day and looked around the tired and unloved place. It had become pretty run down, needed a bit more than just some TLC and the banks wouldn't lend us any money. Now, seven years later we've finally completed all the refurbishments we planned though we still like to tinker with improving things. We hope that we've created something a bit special but haven't lost sight of the core values of those pioneering folk who started the hostel movement back in the 1930s. They set out to provide inexpensive, safe and welcoming places to stay so people could explore for themselves some of the most beautiful countryside Britain has to offer. We like to think that here in our little hostel in the far west of lovely Pembrokeshire their spirit lives on. Come and discover it all for yourself, you'll be made most welcome…
Bedrooms and Prices
With decor that wouldn't look out of place in a boutique hotel, comfy memory foam mattresses and all rooms featuring an en-suite solar powered shower, there's nowhere quite like The Old School Hostel. There's no hint of boutique about our prices though! Our prices start at £16 per person. Click here to tour the bedroom options.
Budget Bed & Breakfast
Budget prices, budget accommodation? Not at The Old School Hostel. We try to use, organic, fair-trade and local produce when possible.  Another real plus is that, unlike ordinary B&Bs, you don't have to go out to eat every night; save money by self catering in our well equipped kitchen. So, if you're looking for a cheap and cheerful B&B here in beautiful Pembrokeshire, consider choosing us. We're certainly cheap and we're usually cheerful! Bed and breakfast prices start at £16 per person. Click here for more details.
Groups
The Old School Hostel is a great venue for groups of up to 20 looking for a comfortable base from which to explore all that Pembrokeshire offers.  Perfect for walking groups, cyclists, (we are on Sustrans Route 4 The Celtic Trail) or families and groups of friends looking for an inexpensive hideaway near the sea.  We're a day's walk, or a hour's cycle or a 20 minute drive from Wales's smallest city St David's.  Here on the North Pembrokeshire coast are the idyllic beaches of Whitsands, Abermawr and Traeth Llyfyn, and the unique village of Porthgain.  Day trips can take you north to Cardigan, Newport and the Preselli's, or to south Pembrokeshire and Tenby, or Pembroke with it's impressive castle, or Stackpole Quay and Bosherston's lakes.  There's more than enough to explore
Group prices start from £13.75 per person per night. Click here for more details
How To Book
Book On-line via the calendar at the top of this page, or phone to pay by card, or make a bank transfer.  Or email us if there's anything else you'd like to know.